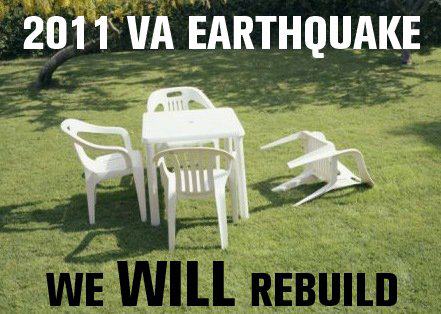 Yesterday the earth trembled, and shook, and trembled some more. I wish I could say that it is because I reached my goal weight. No, that wasn't it for sure! I'm at the beach house this week, and I am holding my own, no loss, but no gain. Remember the tortoise and the hare? Well I am surely the tortoise in this weight loss game! Slow and steady, but really, this slow?????
Anyway, I am savoring the lazy, hazy last days of summer. The beach is glorious, the sand warm and the breeze just right. I'm into the final pages of a great beach read ( Summer People, by Elin Hilderbrand) and just about to find out the sex of Beth's illegitimate grandchild, fathered by her teenage son, who has had a summer romance with Beth's, former high school lover's, daughter, while she is coping with the loss of her husband, who died in a plane crash, while returning from a visit to a prison, where he is defending a woman, who murdered her sister, whose son is now spending the summer on her Nantucket family home, while forming a relationship with her teenage daughter....following me so far??? Hope I didn't spoil it for anyone!
It was just a nice summer read, and I was enjoying it....when.........my......... beach......... chair.......... started.......... shaking......I looked up.I looked over my shoulder, thinking someone I knew had come up from behind to teasingly shake my chair.I looked over at my husband who had just been awakened from his nap.Then I looked at other people on the beach. Everyone knew something was up. What we didn't know was that an earthquake of a 5.9 magnitude had occurred in VA. I opened up twitter on my phone and the tweets were pouring in. People felt if all over the east coast and even up into Canada.
Some of the damage!
Now I know you west coasters are giggling a little this morning. I saw the tongue in cheek posts showing damage, where a yogurt cup and spoon are turned on it's side, and a wall picture is askew. I read the posts that said this is just a regular Tuesday on the west coast. And the photos of the chair on its side with someone saying " we will rebuild" even made me smile. But we are amatuers at this sort of thing, and it gave us a scare for a minute....or really a few seconds.
Here was a tweet that I saw:
Dear sassy California people: Now might be a good to remind you that you freak out WHEN IT RAINS.
And another funny post: Of course, the tables might just turn if a freak snowstorm ever hits San Francisco.
I know this is all my fault. I have had earthquake insurance on my homeowners policy for years. My agent said there is a fault that runs through PA. It didn't cost much, only a few hundred dollars. But when the policy just came up for renewal, I said to myself, this is silly. I told my agent to take it off. So blame this one on me!
Thought for the day: I feel the earth move, under my feet!